Suspended Ceiling Contractors
Have You Seen This Tool?
After twenty plus years as a suspended ceiling contractor and installer, working on countless jobsites in Las Vegas, Southern California, and now Washington state, I came up with the idea for the Cross-T-Squared.
This tool is the new "must have" for the acoustical ceiling industry. I have already sold hundreds of them to suspended ceiling contractors like you around the US, Canada, the UK, and even Australia.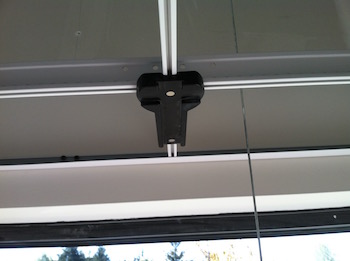 What is a Cross-T-Squared?
It is the fastest way for your suspended ceiling contractors to space perimeter tees at a perfect 90 degree angle (perpendicular) to the main runner, before he pop rivets them to the wall angle (or snaps on the berc clips on the unpopped walls).
Weighing less than 3 oz, this tool has no moving parts to adjust, wear out, or break, and it fits easily into their tool belt.
The acetyl polymer protects the mains and tees from scratches, and the magnets attach it securely to the grid for hands-free use.
All of the tools edges are rounded, which makes sure that installers don't break their cut line.
How does the Cross-T-Squared work?
The Cross-T-Squared has two perpendicular grooves which align the tee to the main runner. Your installer sets the tool up to the main, where the first magnet grabs on, and then he slides the perimeter tee left or right until it the second magnet grabs on. 
Its done! 
Next, he clamps the end of the tee to the wall angle, removes the Cross-T-Squared, and sets it on the next tee, then he punches and rivets the clamped tee. 
As a suspended ceiling contractor, wouldn't you like to stop paying wages for pulling out a tape a hundred times a day, to measure the tee spacing?
No more "crooked tees" showing up on your punch list. This was a huge pet peeve of mine while I was an suspended ceiling contractor.
Works on all 9/16" and 15/16" Systems
To keep suspended ceiling contractors contractors from needing one tool for each system, I designed the tool to work with 15/16" systems on one side, and 9/16" systems on the other.
Both sets of alignment groves are cut on a laser driven CNC machine, which is computer controlled to maintain our demanding tolerances.
The alignment slots are cut to match the manufacturing tolerances outlined in ASTM C635 & ASTM C636.
That means that one tool will work on all USG, CMC, and Armstrong grid systems.
Even with this dual system design, the tool is incredibly light, at 3 ounces, and won't damage the grid finish.
Does the Cross-T-Squared Work on Soffits? 

The top edge of the tool is also made at a true 90 degree angle to the long alignment slots.
Dramatically speed up soffit building by using the Cross-T-Squared to plumb the tees from the top down, or the bottom up.
Unlike torpedo levels which installers must hold to read, and then also clamp the tee, the tool stays in place with its magnets.
Once it is set it on the tee, the installer moves the tee left or right until the tool edge rests against the wall angle, then simply clamp and rivet.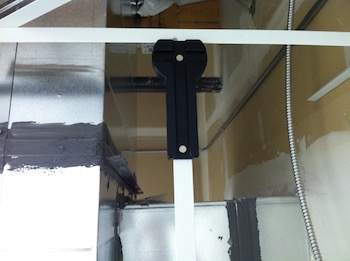 How Much Labor Can I Expect to Save?
The Cross-T-Squared will save suspended ceiling contractors (or your installers) time whenever they are cutting in the tee wall.
It works on straight, angled, and radius cut-in walls equally.
When I started comparing using the tool to not, most installers saved between 30 to 60 minutes a day.
That time can then spent running more field grid, and increasing overall production. Since the Cross-T-Squared spaces the perimeter tees accurately, tile installation goes quicker as well.
So let's do some calculating...
Based on just one installer, saving 45 minutes a day, comes to a total of 3.75 man hours per week. 
I know wages vary from area to area, and union vs. non union, so let's say he is being paid $30.00 per hour. That comes to $112.50 per week. 
Let's multiply that by 50 weeks, allowing two weeks vacation time annually. 
That is $5,625.00 of straight labor, add your labor burden of 30%, that is another $1,687.50.
Add those two totals together, for a grand total of $7,312.50, per man, per year. 
If your running a ten man crew, you can potentially save $73,125.00 in labor costs annually.
The cost to outfit this ten man crew with Cross-T-Squareds would be a mere $650.00 (plus shipping costs), giving you, the suspended ceiling contractor a return of over 110 times your investment.
I would rather have that number in my profit column, rather than my labor/overhead column. 
Wouldn't you?
My Guarantee
Try the Cross-T-Squared for thirty days absolutely risk-free.
If you don't agree that it's saving your installers time and money, every day they use it, return it to me and I will gladly refund your purchase price.
No questions asked.
If you are still a little unsure, consider this fact:
To date, of the 500 plus Cross-T-Squareds I have sold in the US, Canada, the UK, and Australia, not one suspended ceiling contractor or installer has returned one yet, or asked for a refund at the end of their 30-day test drive.
Limited Lifetime Warranty
I also provide a lifetime warranty against breakage.
If the Cross-T-Squared breaks or the magnets should come out, send me the pieces, and I will send you a replacement.
It's that simple.
Lastly, you can also check out the Cross-T-Squared videos page by clicking this link.
Curtis Dennis